In many industrial field,
M-Bolt's products are being used.
M-Bolt is making a cutting machine that manufacture large acrylic,
In 2017, M-Bolt makes grinder guide for everyone.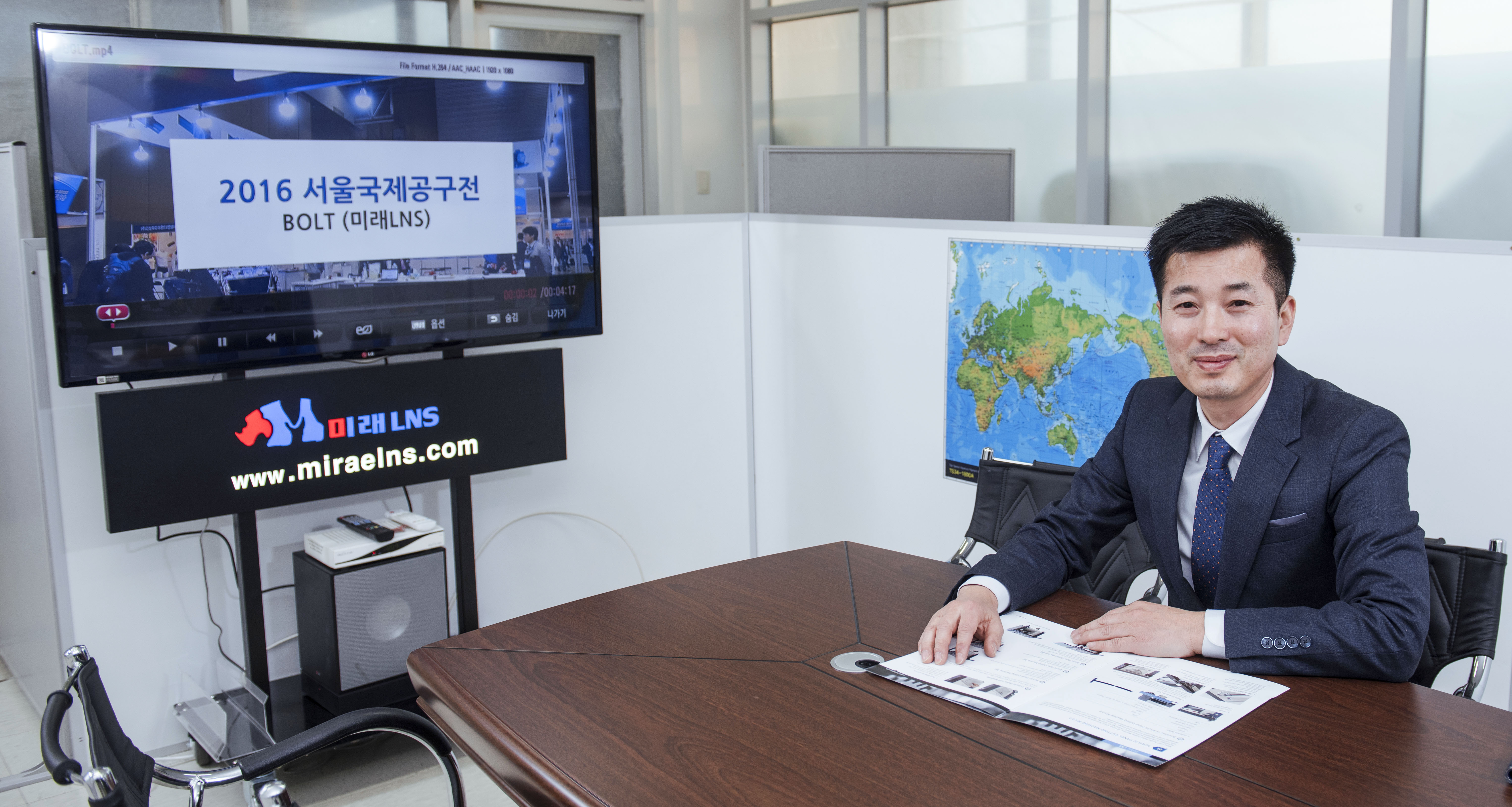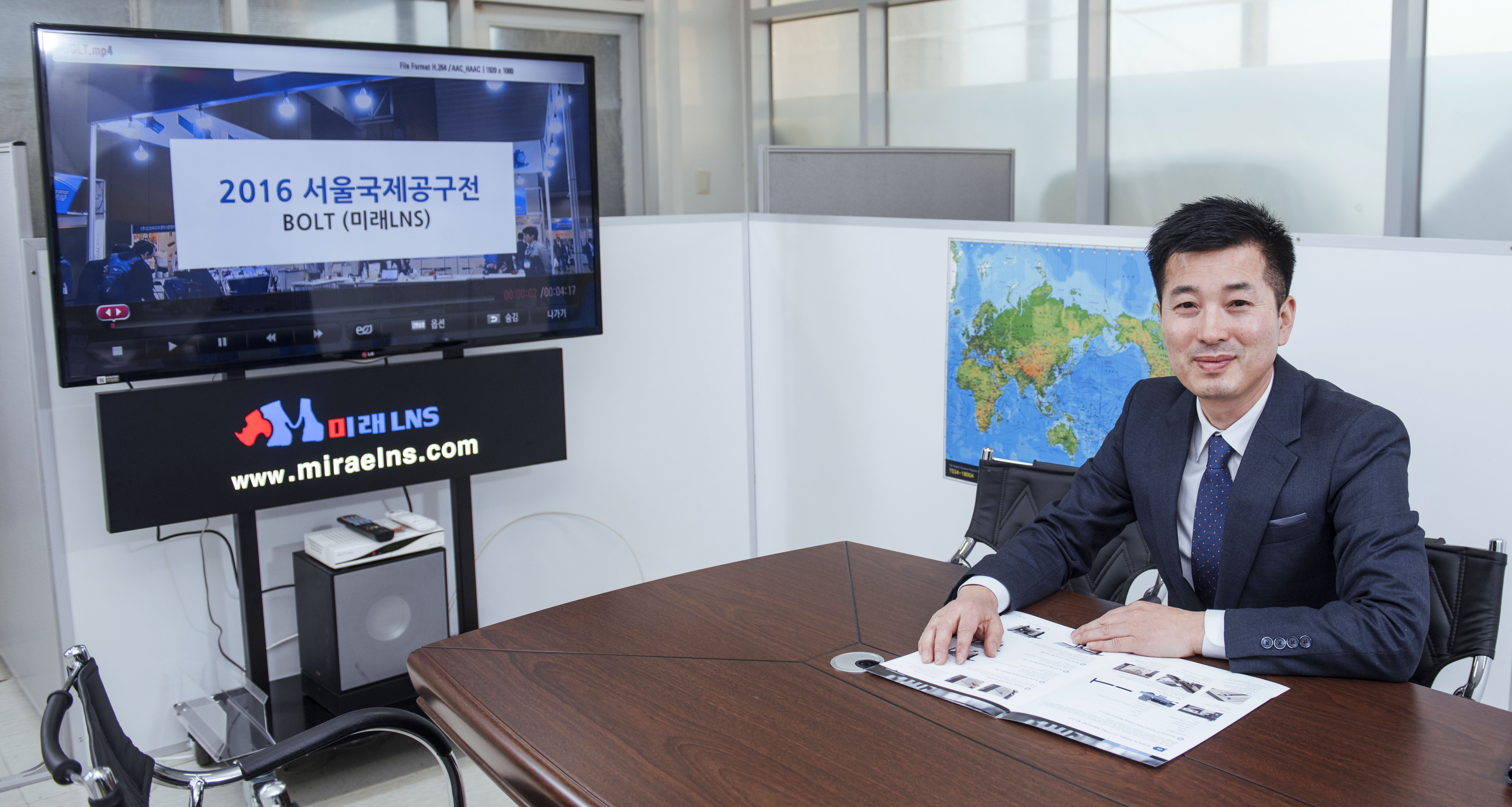 We, M-bolt, have been dedicating ourselves for several years on research of the products to the goal of creating high quality products that meet customers' needs.
Our Acrylic Panel Cutting Machine, which has been developed since 2008, was continued to reflect customers' needs. We have developed our own motor which can be compatible to various electrical method in all over the world. Through this, we could grow our products' capability to fit in global standard and could expand our business ability in the global market. 

In addition to the previous Acrylic Panel Cutting Machine since 2008, we also recently developed large size acrylic panel cutting machine for the huge size work to meet various customers' requests and needs. Therefore, we finally could success in expanding large-size cutting machine business capability at a certain level in the global market. 

Not only that, edge trimmer, panel bending machine with our own technology have succeeded in its commercialization and finally could reached to its mass production. 

All our products are certified by international standards and follow international specifications. And we hold patents for each core technology of the products. As we have consistently been managing all process of product manufacturing from design, development, production, test, inspection, to after-service steps, we could step forward beyond the domestic market to become a global leading company in SIGN industry field. 

Through this, M-bolt contributes to Machinery industry. Also we do our best efforts to make eco-friendly environment and pleasant work place by equipping dust collector in all our products.We are proud that the diversified and globalized business system of M-bolt will definitely distinguish itself in today's limitless competitive era regardless of its time and location. 

However, we will never be satisfied with this, and will always return to the spirit of pioneer to introduce constantly newest technologies and realize high quality products. Through consistently devoting the highest level of efforts, we will pay back to your support with the best products.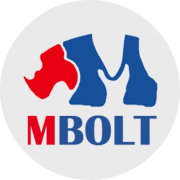 01. Third Participation in SGI Dubai 2016 Sign Exhibition
(SIGN & GRAPHIC IMAGING MIDDLE EAST 2016)
(UAE, Dubai World Trade Center).

05. Participation in FESPA Hamburg exhibition
(Germany, Hamburg).
05. Conversion to a corporation and changed the corporation name Corp. 'M-Bolt'.

09. Participation in Europe's largest scale tool exhibition EMO Hanover. (Germany, Hanover, 4-year cycle.)
01. Participation in SGI Dubai 2016 Sign Exhibition
(SIGN & GRAPHIC IMAGING MIDDLE EAST 2016)(UAE, Dubai World Trade Center).

03. Participation in FESPA Amsterdam (Netherlands, Amsterdam).

04. Acquisition of CommunateEuropeeene(CE) for Acrylic Panel Edge Trimmer M7, Acrylic Panel Bending Machine M12.

10. Development and Commercialization of Grinder Guide.Participation in 2016 Kintex tool exhibition and open first showcase of grinder guide with brand name 'BOLT'

11. Participation in Cosign Exhibition (Coex).
01. Participation in SGI Dubai 2015 – Dubai World Trade Center, UAE
01. Made first contract of MR-A3100SR in the Middle East
(UAE and KSA)
04. Participation in Seoul Digital Printing Sign EXPO 2015 KINTEX

07. New version of Small size Acrylic Panel Cutting Machine is released.Production Code Name is renewed (M3, M2, M1)

11. Acquisition of CommunateEuropeeene(CE) for Acrylic Panel Cutting Machine M3(M1, M2).
01. Acquisition of patent for skylight window (skylight window that is easy for light control and installation)

03. Development and release of acrylic panel cutting machine MR-A3100S

04. Participation in ISA exhibition in Orlando, Florida, USA

07. Light Guide Panel Processor MR-CA25 is began to export (Chicago, USA)
07. Acquisition of KC certificate for small size Acrylic Panel Cutting Machine (MR-A3100SR)

09. Start to develop and sell large size Acrylic Panel Cutting Machine

11. Participation in KOSIGN – COEX

03. Participation in Household Items Exhibition-KINTEX

04. Development of large size CNC automated machine, release of prototype and start to its mass production

05. Participation in MBC Architecture Exhibition KINTEX

06. Development and release of acrylic panel cutting machine MR-2400S

07. Participation in Shanghai Sign Exhibition, China

11. Korea International Sign Design Exhibition (KOSIGN 2013)
03. Participation in Tokyo Sign & Display Exhibition, Japan.

04. Development and release of acrylic panel cutting machine MR-2300S

05. Participation in MBC Architecture Exhibition – KINTEX

11. Participation in KOSIGN 2012 – COEX

12. Start to exporting light panel subsidiary materials to Japa
02. Development of CNC automated machine, release of prototype and mass production

05. Producing and Assembling Techlam marble panel frame
05. Participation in MBC Architecture Exhibition

06. Acquisition of patent for acrylic panel cutting machine
06. Development of automated machine operation program

11. Participation in KOSIGN 2011, COEX

12. The factory has moved to the large factory which present Mechazone
01. Opening of the Mirae LNS website, www.miraelns.co.kr

03. Acrylic panel cutting machine MR-2100S and Acrylic panel edge trimmer MR-100R is started to export to Japan
03. Mirae LNS, selected as Venture Company certified by Technology Guaranteed Fund
03. Cutting machine and Edge trimmer is exported to Japan

06. Mass production of LED traffic sign is started

08. Start to produce and sell acrylic panel cutting machine MR-2200S

09. Participation in Tokyo Sign & Display Show, Japan

12. Development of automated machine program

01. Start of selling type 2009, acrylic panel cutting machine MR-1100S

04. Start of selling acrylic panel edge trimmer MR-100R
04. Applied for patent Acrylic Panel Cutting Machine MR-1100S and Edge Trimmer MR-100R

10. Development of acrylic panel cutting machine MR-2100S
04. Multi-purpose acrylic panel cutting machine is started to be commercialized

07. Production of Cheong-Ju traffic signs with panels using LED direct type
07. Company Name has been changed to Mirae LNS. Trading/Exporting department was established.

10. Start of selling multi-purpose acrylic panel cutting machine MR-1000S (applied for patent)

11. Start of selling large size light panel and acrylic panel cutting machine through agents
07. Mirae Slim Light is founded

09. Manufacturing custom-built large size light panel
09. Multi-purpose acrylic panel cutting machine is started to be developed for own panel production purpose