Big acrylic panel cutting machine
This machine has program input method for quick work of large signboard production.
And it is a special equipment that produces sophisticated cutting using train rails.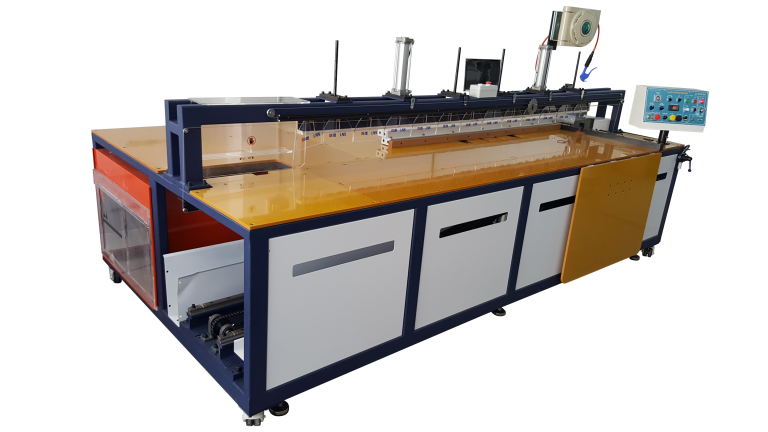 Big acrylic panel cutting machine
Summary of BM1
This is consist of main body, clamp, assist board and dust collector. It uses 8~12 inch of Circular saw blade. And Circular saw blade's motions can be finely regulated.
– Saw blade's movement back and forth also can be finely regulated.
– With the digital scale attached in the machine, user can do fine/precise work.
– Two Operation mode : manual and automatic.
– Timer : With this, the machine can pause during the work.
Power
1) Double Splitting Auto Clamp
Other existing conventional cutting machines applies only air pressure that frequently occur bias in panel cutting and frequent break down. However, BM1's clamp is applied worm gear and it is doubly splitted. So that it is unbiased when even cut the thick panels.
2) Saw Blade Position Indicator
It is possible to check the saw blade's position
Depends on the materials and the size of work, saw blade's position can be adjustable
It can gurantee the safety and eliminate the error during work
3) Installation of Clamp Safety Cover
By equipping a number of clamp type safety covers, in case of thick and small panel cuttings, it will protect user's hand.
4) Backward Point Indicator
Backward point is indicated in numbers that letting users to know how much the main
axis will be backward after each cutting movement.
Dust Collector
5) Built-in Dust Collector and Box
Other conventional cutting machines' dust collectors are located at outer that requires extra space for it. However, BM1's dust collector is located at inside of the machinery that doesn't require extra space for it.
Rail
6) Applying Rail Road at Main Axis Movement
At LM guide stands for main movement, it applies train railroad. Train railroad is welded and precisely processed that guarantees its stable movement for a long time.
Belt/Gear
7) Application of Timing Belt and Gear
By applying timing belt and gear at the main motor's power transmission part, it will maintain its initial deliberate performance for a long time. Even for cutting thick panel, there's no no-load-operation on the saw blade
joint
8) Table Plate Cross-joint Fine Adjustment
By adjusting plate bolt on the table, it can control cross-joint precisely
Voltage 3P 380V 
Frequency 50 ~ 60Hz 
Power Consumption 7.5Kw 
Circular Saw Blade 200~300mm 
Maximum Cutting Capability 2500mm x 1280mm x 50mm (thickness) 
RPM 4200 
Size (L x W x H) 3550mm x 2300mm x 1660mm 
3550mm x 2980mm(secondary table) x 1660mm 
Weight Approx. 1500Kg
A function that allows you to connect to a continuously functioning set of measurements to connect and work.